This cheapest DSLR Gimbal or Stabilizer is useful for every Smartphone and DSLR users because it also supports smartphones and it's also a Best DSLR Gimbal or Best DSLR Stabilizer in the budget which can easily stabilize your Shaky Footage and Most Of The DSLR Gimbals are very costly, but this DSLR Stabilizer just costs around Rs 3600 & it is available on Banggood.in
The Gimbal can take upto 1.5Kgs of weight. Design & Looks of the Gimbal is also very good. It stabilizes with the help of the Centre of Gravity. You can also adjust the weight of the gimbal by removing/adding the weight plates at the bottom of the Gimbal. Also, a water level indicator is provided there to check or adjust the balance accurately. In the market, there are many high priced Gimbals available which definitely does the job very well but if your budget is low then this manual handheld Gimbal or Video Stabilizer will definitely help you to take your cinematic shots. The product is available in two colours – Red & Black.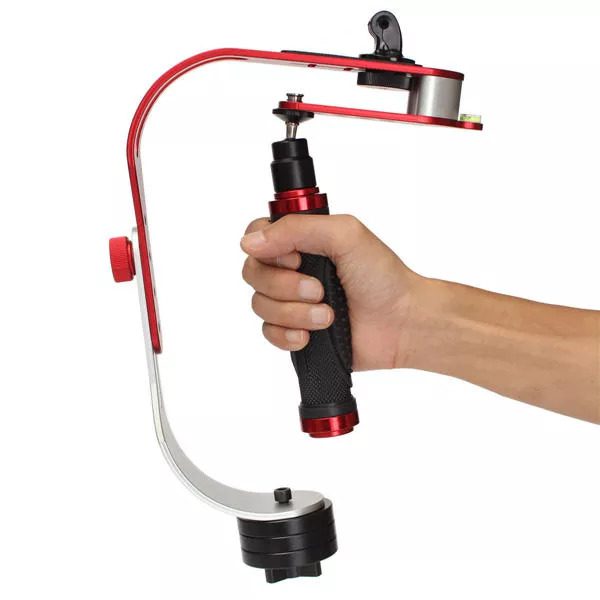 Features:-
The Gimbal is made up of lightweight aluminium which makes it handy.
In the rear, counterweight increases the weight which helps to achieve a better balance and stability.
Universal rotary handle, making more space arm activity, also shows the professionalism of this stabilizer.
Curved design to support the camera with head, tail to increase the weight, and by the middle of the controller, it can quickly adjust the balance.
It also features a rubberized, non-slip mounting surface so your camera attaches securely, and a rubber-covered hand grip for comfortable shooting.
1 x Stabilizer Bracket
1 x Universal Handle
1 x Cellphone Holder
1 x Adapter For Gopro
3 x Counterweight Weight
Buy Now – https://bit.ly/2q2A1eq
Check out our Review