Spren is your Notification Assistant, it helps manage notifications on your behalf. It collates and organizes all the information received in notifications for you and helps you focus by alerting you only when required.
Spren is like a smart inbox for your notification. Receive important notifications instantly, rest are batched and safely stored , organized in Spren for you, to go through at convenience. Helps you focus by reducing distractions while de-cluttering your Notifications. No more having to deal with so many notifications that you just clear everything away!! Spren will help you manage notifications actively looking for your attention but keeps everything which doesn't need your immediate attention backed up for when you actually need it.
With Spren you get the following features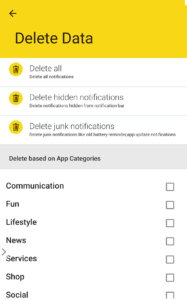 1. Notification Batching : Reduce distractions with Notification Batching. unimportant notifications are hidden and a reminder is shown to user with a summary at various times during the day.
2.Block Promotional Notifications : Spren allows you to block Promotional notification from SMS and other apps like Amazon , Myntra , Flipkart, Snapdeal , Uber , Ola, Swiggy .
3.Block Group Chat Notifications : Spren allows you to block Group chat notifications from app like Whatsapp, Telegram, Skype, Messenger ,Instagram .
4. Collects & Organize Information : Spren collects, organizes and stores all your notifications in your Inbox. You can search through it to find what you are looking for. Never miss any information again.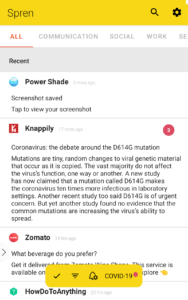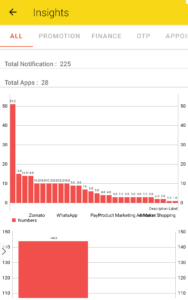 5. Privacy Focused : Spren respects the privacy of its users. All notification data is kept on your device only . We don't share any Notification data to our servers or 3rd party.
6.Read Deleted chat from Whatsapp, Telegram, Skype, Messenger ,Instagram .
7. Ads Free : We promise to stay ADS FREE
+ dark mode and much more features incoming.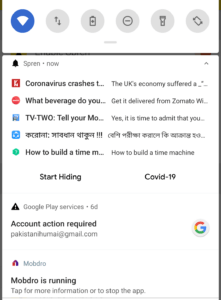 We are a small team of developers who believe Smartphones deserve smarter notifications. Please install the app to support us while we are busy working in our dens to bring more features.