PUBG Mobile recently updated to v0.14.1 that brings Golden Woods Map in India. Amazon Prime Members will get some extra benefits and freebies. In-game items that will come free with an Amazon Prime membership include an exclusive Infiltrator Mask, Infiltrator Jacket, Infiltrator Pants, and Infiltrator Shoes.
It brings a new title system that helps players unlock achievements and gain experiences and rank higher among other players. The new Golden Woods map offers a small-town setting with shrubs for combat play.
"Now, no matter what platform you play on—whether console, PC, or mobile—there are Prime game benefits for you. We're starting with exclusive content for PUBG MOBILE one of the biggest mobile games in the world, and in the coming months, we'll roll out benefits for some of the most popular mobile games across many favorite genres." – said Ethan Evans, VP, Twitch Prime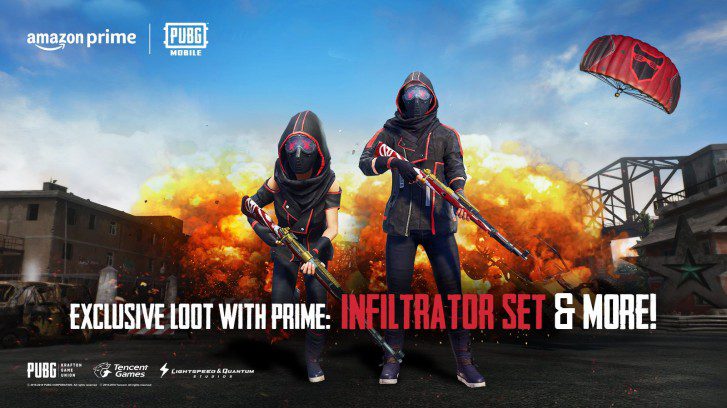 PUBG Mobile Loot Schedule:
Drop 1 (9/20/19 – 10/3/19) – Infiltrator Mask (permanent item)
Drop 2 (10/04/19 to 10/17/19) – Infiltrator Jacket (permanent item)
Drop 3 (10/18/19 to 10/31/19) – Infiltrator Shoes (permanent item)
Drop 4 (11/01/19 to 11/14/19) – Infiltrator Pants (permanent item)
Drop 5 (11/15/19 to 11/28/19) – Epic Level Gun, Blood Oath – Kar98K (30-day use token)
Drop 6 (11/29/19 to 12/12/19) – Epic Level Black Magma Parachute (30-day use token)
Patch Notes 0.14.1 (Source – PUBG Mobile)
LITE exclusive map: Golden Woods!
New Season starts on 1 Oct!
Achievement System: Complete designated missions to unlock achievements!
Title System: Show your skills to the community with fancy titles!
Major Update:
New Game Mode:
Firefight: War Mode of RPG-7
New Firearms: PP-19, QBZ, QBU
New Vehicle: UAZ
Bug Fixes:
Fixed the sorting issue under the event interface.
Fixed display bugs in some maps.
To know more about PUBG Mobile and Amazon Prime offer, please visit www.amazon.com/pubgm and also check the blog post of Twitch.