Mozilla revamped the Firefox Test Pilot program which started approximately three years ago, now they will focus more on Privacy features. They are trying to offer a Free VPN service on the Firefox browser which can be used after adding an extension, the same thing is offered by Opera Desktop browser without adding any further extension. The VPN Service will be called Firefox Private Network.
The Free VPN service in under a Beta stage, to use it you need to login to your Firefox account using your desktop or laptop. Firefox said in a blog post – "The Firefox Private Network is an extension which provides a secure, encrypted path to the web to protect your connection and your personal information anywhere and everywhere you use your Firefox browser."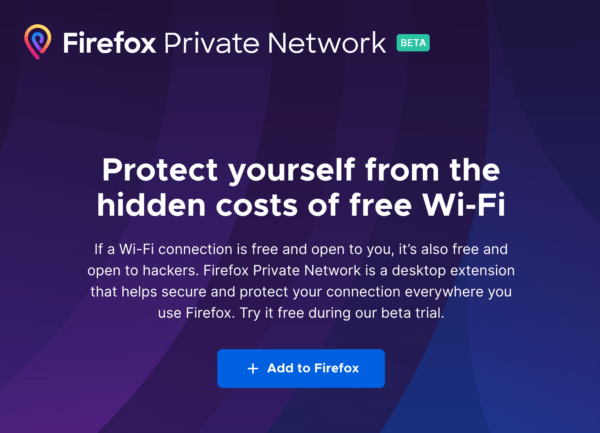 Though the service is currently available in the US on the Firefox desktop browser. If you are a user from US then click here to download the extension and join the Beta testing. In the Test Pilot Program, several tests will be done with the help of the Beta users before rolling out for the public.
Mozilla partnered with Cloudflare to provide the VPN service, the proxy servers are also provided by Cloudflare that provides strong privacy controls that limit what data is collected. User's IP address will be masked so anyone can browse the internet freely without any privacy issues. Though you will be provided with a nearby IP address so local ads may come but they will misguide trackers by changing your IP address.