1. Manual Camera Pro & Fabby
Manual Camera Pro is an advanced app which gives you the chance to shoot with your smartphone like a DSLR camera with all the manual setting that can be controlled with the RAW image support. Users can edit different aspects of a photo like white balance, ISO balance, Focus changing, colour correction, toning, and many more options available in the app. Also, it can record sound with optimised noise reduction feature.
Fabby is a wonderful photo editing application by Research at Google which helps you to edit your portrait photos. It can remove the background of your photo, change the background, can add bokeh mode (in many phones it works well than the built-in portrait/bokeh mode). The app performs well if the picture is taken with a smartphone which has only 1.3 MP camera. Try on fun video backgrounds in real-time to complete looks virtually before taking a video. Except all these, some other features are also included like beautification, hair colouring, makeup, etc.
Download Manual Camera Pro Download Fabby
2. Mathway
Mathway is not a photo editing app…it is a problem-solving app which can help you to solve your basic algebra to complex calculus. Simply type your problem in (or point your camera and snap a pic!) to receive instant free answers. Mathway is basically your private tutor of maths which will help you to complete your assignments/homework easily.
Mathway covers all levels of math, including:
• Basic Math/Pre-Algebra (arithmetic, integers, fractions, decimal numbers, roots, factors, and more…)
• Algebra (linear equations/inequalities, quadratic equations/inequalities, absolute equations/inequalities, systems of equations, logarithms, functions, matrices, graphing, and more…)
• Trigonometry/Precalculus (trigonometric functions, identities, conic sections, vectors, matrices, complex numbers, sequences and series, and more…)
• Calculus (limits, derivatives, integrals, and more…)
• Statistics (probability, permutations, combinations, and more.
3. Toolwiz & Air Brush
Toolwiz is another brilliant app for editing your photos. It is basically a combination of Pics Art, Snapseed, Lightroom and hopefully, it has more features than all these apps. Also, you can use free online resources that includes 150+ PIP frames, 400+ layouts, 2000+ Stickers, 200+ texture, 200+ Flare, 100+ Light Leak, 200+ text fonts. Users can edit the photos professionally with various tools and effects which cannot be explained here one by one…so you better download the app and enjoy editing your photos.
Air Brush is also a good professional editing app with so many tools included in it like Natural & Radiant Filters, Add Depth and Style to Your Photos, Artistic Retouching Features, Skin Toning, Whiten Teeth and Brighten Eyes, Blemish and Pimple Remover, Slim, Reshape and Lengthen Your Selfie or Photo. It also has a Real-Time Editing Technology which is basically a tool that gives you an opportunity to edit your photos ever before capturing it.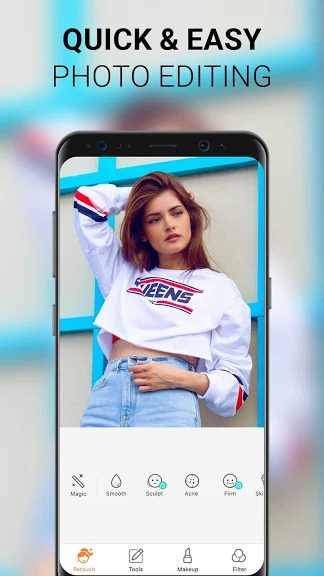 Download Toolwiz Download Air Brush
4. Photographer Companion
Neither this app can click best photos or edit the photos like a pro but new camera-centric smartphone users and new DSLR users can use this app to create Depth of field, Field of View, Motion Photography, Macro Shots, Lighting Shots, Sun Moon, Stars, Northern Lights photos or Timelapse. It has also a pro version which comes with no ads and extra editing features. There are so many features available in this app that we cannot mention all of them in this post, you can check the app description for further details or download the app to use it yourself and get to know the features of this app.
Download Photographer Companion
5. Pixaloop
Pixaloop is a very efficient app to create animated photos. Basically, the app converts a still image into a LIVE image or video. You may have seen many photos on social media in which some objects move in the photos but other objects remain still in it. So with the help of this app, you can create those photos easily from your smartphone. To create animated photos you need just 4 tools – path (select the moving object), anchor (helps to stop animation near the moving object), speed and freeze (select the area which you want to freeze or not to animate). Also, you can change the sky within an image with a more realistic sky and users can also add overlays or motion graphics that includes smoke, butterflies, flames and many more.
6. Adobe Capture
This one is from a renown brand Adobe which creates vector graphics of any photo you click whether it is a person/object/something else. The clarity of the vector is just the same as we get the output from the illustrator for pc, no matter how much you stretch or zoom the quality will be fine. Just go to the 'Shapes' option and click a photo and then select the 'smooth' option and wait for some time for processing the photo by the app. Then see the magic how this software transforms a black and white photo into a high-resolution vector which you can colourize later on.
Check out the video