---
 Here is Top 5 BEST VIDEO EDITING APPS FOR ANDROID IN 2022 WITHOUT WATERMARK
There are an ever growing number of Android video editors available on the Play store today. And unless you know exactly what your requirements are, it can become overwhelming to zero in and figure out which is the best video editing app for Android. Here is Top 5 BEST VIDEO EDITING APPS FOR ANDROID IN 2022 WITHOUT WATERMARK

1. VN VIDEO EDITOR
2. KINE MASTER PRO
3. POWER DIRECTOR
4. VITA- VIDEO EDITOR
5. ADOBE PREMIER RUSH
1. VN Video Editor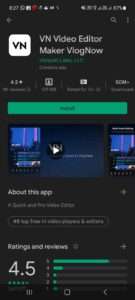 It also offers a friendly and interactive experience for both beginners and professionals. Best of all, your edited videos are without watermarks. Be careful with using transitions, though, as it sometimes causes a gap between the video and the audio. VN Video Editor comes with all the features you may need to create or edit any video.
 Key features:
You won't encounter any video or banner ads while editing or exporting the video.
The whole UI is clean, baked with advanced editing tools like multi-track editing, curve shifting, FX for video effects, BG for background enhancement, freeze, filters, and more.
You can also create videos in various dimensions and aspect ratio in just a few taps. Further, you have all the standard video editing tools such as trim, split, speed, etc.
Apart from that, those who want a music library of various sound effects would love VN Video Editor as it features a large collection of sounds.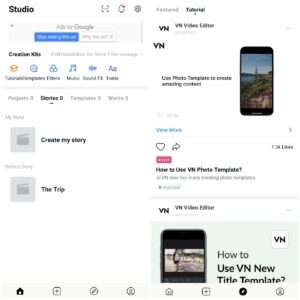 All in one, VN Video Editor is a perfect video editor for Android without watermark. If you have been looking for a powerful and free TikTok or Instagram Reel or any other video editor, you must give it a try.
| | |
| --- | --- |
| App name | VN Video editor Maker Vlog Now |
| Category | video players & editors |
| Developed by | Ubiquiti Labs, LLC |
| Ratings | 4.5∗ |
| Size | 129 MB |
| Downloads | 50 M+ |
2. Kine Master Pro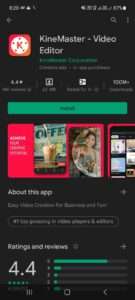 If you are an advanced video editor with years of editing experience, KineMaster is a popular choice among professional YouTubers and social media gurus who want more advanced editing features. This app includes all of the basics you would find in other apps, as well as a wide range of professional editing tools and effects.
KineMaster allows you to adjust the color and enhance the image quality of your videos with the touch of a button. You can add voice-overs, background music, and other sound effects with ease, and its volume tools elevate your audio to studio-quality.
The app also includes advanced features like keyframe animation tools to add motion to your layers, along with speed control and premium blending modes. You can export your videos in 4K or 2160p and upload them straight to social media sites.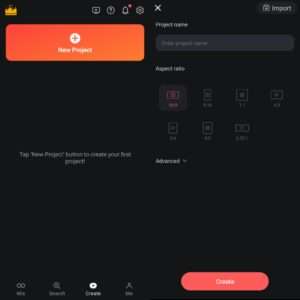 Subscribing to premium will remove watermarks and ads, open up professional tool presets, and give you access to the KineMaster asset store. However, you can use the app for free for the first few days to try it out. We think it is a good video editing app for Android tablets because its advanced features are more suitable on a larger screen. However, its clean interface makes adjusting videos on your Android phone a piece of cake.
Key features:
You can use the essential tools to cut, split, or crop your videos
It lets you combine and add images, stickers, special effects, or watermarks to a video.
Kine master provides the means to add music, voice-overs, and sound effects to a clip.
You can download more than 2,500 transitions, effects, and stickers.
Features such as slow-mo, reverse, and speed-up are readily available.
Most importantly the app is cost- effective and easy to use. It is also available in Landscape mode. One more reminder while editing, the preview will show a black screen until you restart the app. You could face bugs and glitches after an update.
| | |
| --- | --- |
| App Name | Kine Master- Video Editor |
| category | Video players & Editors |
| Developed by | Kine Master Corporation |
| Ratings | 4.4∗ |
| Size | 62 MB |
| Downloads | 100M+ |
3. Power Director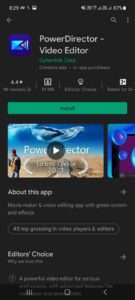 The Editor's Choice PowerDirector is truly the best Android video editor. This awesome app comes with a wide range of features that allow you to craft the perfect video from start to finish—all on a phone or Android tablet. And at such an affordable price point, we couldn't think of a better option for hobbyists or amateurs wanting to create professional-level videos.
 Key Features:
Edit and export videos in up to4K resolution
Produce fast-forward or slow-motion videos with speed adjustment
Fix shaky cam footage with video stabilizer
Produce eye-catching intros with animated titles
Tons of audio effects in voice changer
Replace background with green screen editor by using chroma-key
Create stunning double exposure effects with video overlays and blending-modes
Unlimited access to a massive royalty-free stock library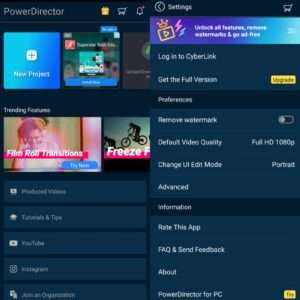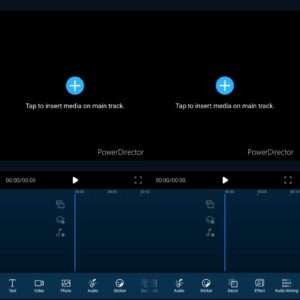 | | |
| --- | --- |
| App Name | Power Director- Video Editor |
| Category | Video players & editors |
| Developed by | Cyberlink Corp |
| Ratings | 4.4∗ |
| Size | 81MB |
| Downloads | 100 M+ |
4. VITA Video Editor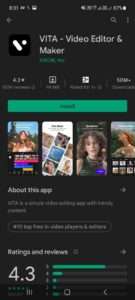 VITA is one of the best video editors I have tested on a smartphone. Considering its beginner-friendly design and zero cost, I think most smartphone users will find this app to meet their needs. The app is perfect for creating short-form video content, but you can also use it for longer videos if you want. We will discuss the main features of the VITA and how it can help you improve your video editing game.
Key features:
VITA comes with hundreds of templates that you can use to create your videos. These templates feature pre-filled video effects, cool video editing cuts, sound effects, background music, and more.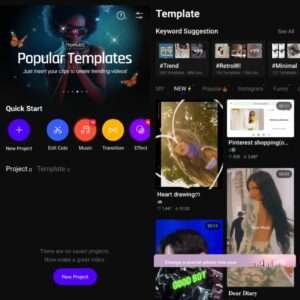 One of the biggest hurdles in creating videos is finding the right music. VITA makes this task painless and effortless by letting you access a large library of free soundtracks.
The app also comes with all the basic video editing tools that you need to edit your videos. You can split, cut, crop, and trim your videos. There's also support of frames.
You can change text font, color, and size, as per your liking and even add text animations.
My favorite thing about the VITA is its user interface. First of all, there are no ads and no in-app purchase reminders.
Finally, there are hundreds of tutorial videos in the app that teach you how to use the app in bite-size chunks. So, whether you want to learn how to apply slow-motion effects or add text call outs, you can learn it in the app.
| | |
| --- | --- |
| App Name | VITA- Video editor & Maker |
| Category | Video players & editors |
| Developed by | SNOW, Inc. |
| Ratings | 4.3∗ |
| Size | 94MB |
| Downloads | 50M+ |
5. Adobe Premier Rush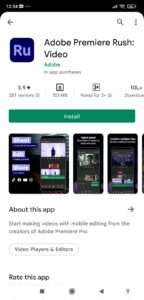 Adobe is known for its photo and video editing software and Premiere Rush is the obvious evolution of that. It gives you all of the features you would need to create a quality video on your phone at a price point.
Premiere Rush uses a straightforward drag-and-drop interface that allows you to add titles, background music, overlays, and other video effects with ease. The platform's multi-track timeline will enable you to edit multiple clips and videos, which is ideal for picture-in-picture and split view effects.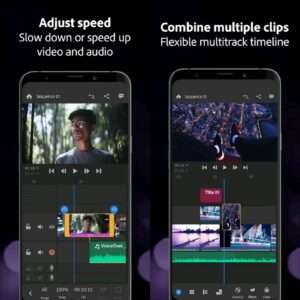 One of this app's best features is its built-in professional camera functionality. You can film your videos right in the app, making it easier to edit multiple clips together.
This special effects app is convenient for YouTubers, TikTok creators, and social media influencers. It includes unique features that help you optimize your videos for these platforms—you can resize your videos from landscape to portrait and adjust aspect ratios to best fit your social media page.
Most of Premiere Rush's features are free, but upgrading to premium gives you access to advanced audio features and Rush's premium content library. For social media influencers, subscribing to premium even lets you automatically reframe your clips to fit the most essential parts in your new aspect ratio.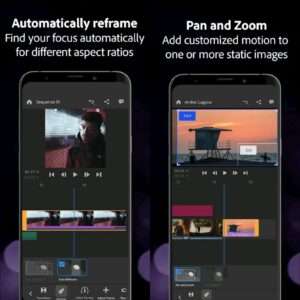 Key Features:
Multi-track timeline
Auto reframe for social media
Built-in professional camera functionality
Overall, Adobe Premiere Rush is an excellent app for intermediate editors who would like to use a range of advanced features right from their phones.
| | |
| --- | --- |
| App Name | Adobe Premiere Rush: Video |
| Category | Video Players & editors |
| Developed By | Adobe |
| Ratings | 3.9∗ |
| Size | 153MB |
| Downloads | 10L+ |
For beginners, the video editor needs to be easy to use. There are many video editors on the market who have a steep learning curve. People tend to prefer something free to a paid video editor. I mean, if a free video editor is good enough for your basic needs, you probably won't be looking for paid one. Try out once these applications and you are going to love it for sure.